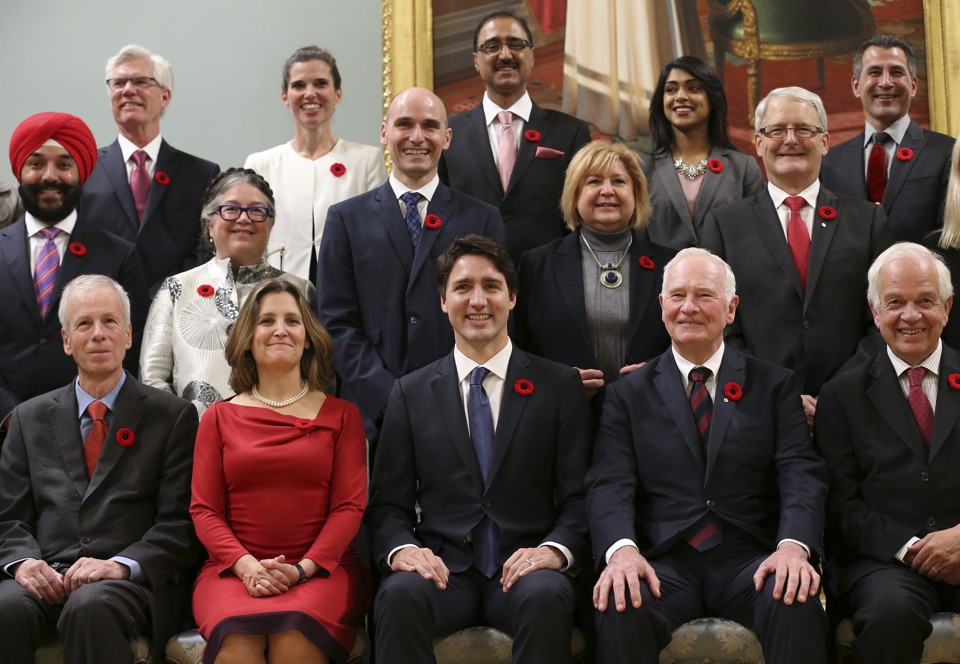 This passed month, something happened in the heart of Ottawa, Canada that stunned the entire world: Justin Trudeau, newly elected liberal Prime Minister of Canada, assigned the most diverse group of politicians to his cabinet in the history of our world! Our cabinet has an equal number of men and women and is made of people who come from different ethnic backgrounds as well. We made history fellow Canadians and we should be very proud of our country and its government for taking such a stride towards transparency and equality.
"It's an incredible pleasure for me to be before you today to present a cabinet that looks like Canada." (Source) What a bold and honorable statement from Trudeau, Canada's 23rd prime minister. I watched this press conference live with my friends that day and I couldn't help but to be brought to tears to know that women are now getting more of a voice in our government today. It gives young independent female entrepreneurs like me so much hope that we too can stand tall in today's masculine focused world.
I'm very excited that both male and female voices will equally be heard in our new political party; all people matter to me, no matter the gender, ethnicity or sexual orientation. It brings me so much joy to see things like this in such turbulent times on Earth, while war and even racism still stand strong in corners of our world.
When I saw the confident smiles on the diverse faces of our new political cabinet members during Trudeau's first statement as our Prime Minister, I couldn't help but smile and empathize with how much courage these individuals must have to stand up to social inequality all around the world by being part of a cabinet that would shake the foundations of political social standards all over our planet. "We're forming a government that places trust at the very centre of its actions", Trudeau said. It is a brave statement and gives Canadians hope that maybe our government truly has the ability to reflect who the Canadian people really are.
This lesson for you today is taught not by me, but by the decisions of Canada's Prime Minister Justin Trudeau. Each of us can now look up and say our country's government has sent ripples across the world of change and hope. We can learn from this pivotal moment in world history that anything is possible if you just have faith in change. We can learn to be brave when it sometimes seems all hope is lost. I have been heavily inspired by my governments decisions this month to embody courage and make a global difference in my own practice.
Be bold, Be brave. Be courageous even when you know you will face opposition for your actions. It is not wrong to take a stand against inequality in a chaotic world like the one we live in today. Speak up, because your voice matters more than you know. If you are a woman or minority of any kind, know that your voice matters only when you be courageous and speak up for what is right and just. Your bold actions today can inspire the decisions of our youth tomorrow and together, our voices as one can change the world!
I hope that you too have been inspired by the influential decisions our Canadian government this term. Let this global positivity around you ignite a change deep within your soul to live bold and authentic to who you are and what you believe in. Take good care of yourself and never forget to makeup your soul!
Season's Greetings,
Olivia
Inner Beauty Guru
OliviaHa.com/MakeupYourSoul
Makeup • Hair • Beauty Specialist
OliviaHaMakeupArtistToronto.ca
Share This: