Where did Silicone come from?

In the past:
– Everything was matte and powdered down.
– Makeup was caked on in thicker layers as there was also no photoshop, where it was never airbrushed in advertisements.
– What you saw was what you got. On camera however it appeared very natural and beautiful.

Here's Grace Kelly:




The technique of makeup artists back then were impeccable as there was no room for error.
In TV/Film back then makeup had to be adjusted in color of green/blue where the film would pick it up better in black and white.
Now with just a click everything can be completely changed by being airbrushed, removed, clone stamped and changed to black and white or color.
Time changed where the matte powdered look was in when color television came about and Max Factor revolutionized women to wear makeup outside of TV/Film. They created makeup for women to wear in cake foundation called "pan-cake".
Now today, technology has changed "pan-cake" to just the term "foundation" in many different formulas.



The trend continued to the 90's, with moderate changes as seen below:






Then there was a turn in makeup when Jennifer Lopez came to the scene in millennium 2000 and had a 'bronzed glow' and 'dewiness' to her look.






Consumers became more demanding as they wanted to recreate this famous look Jennifer Lopez had. They no longer wanted the matte look.
Soon, there were more and more advertisements with airbrushed looks featuring women who appeared to have flawless, smooth, soft skin: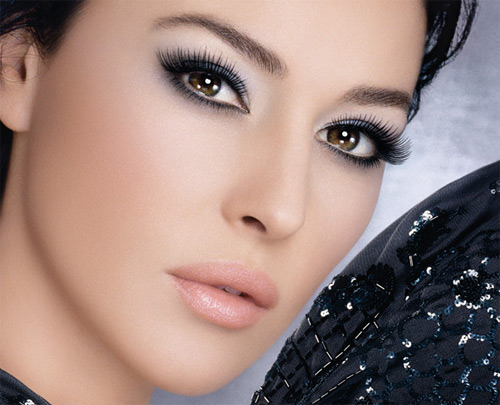 To recreate that look, all that was known was oil to create that sheen on Jennifer Lopez – but a lot of people detested the feel of oil on skin!
– Consumers related thoughts of oil to breakouts and the oiliness created the feeling of a greasy, unattractive skin.
Over a lot of research and testing – cosmetic companies found a solution = Silicone.
It creates the dewiness consumers want for the 'glow' effect and it doesn't clog their pores or have a feeling of oiliness.
They also found that it creates a layer for makeup to sit on, the perfect additive to any makeup solution. Therefore primers were introduced.
Women and Men (cosmetic companies never targeted Men!) today could now achieve that soft, smooth look or a dewy lookFace Atelier is one of them where all their products contain silicone. Other companies have certain products that base on it such as Yaby's liquid foundations, Make Up For Ever's HD line, and so much more.
Now in cosmetics we use of silicone in our cosmetics:
– makeup – reduces texture to a smoother surface
– cleansers for anti-foam – more conditioning
– hair conditioning products – softer, silkier feel
– skin conditioning products – moisturizers
– skin protectant – primers, barriers
Cosmetics isn't the same anymore with this technology to smooth away any fine lines, cracks, crevices!
Embrace this technology, Women and Men!
Share This: